We are very pleased to give a warm welcome to Kapow Coffee who joined us a few months ago. They had been experiencing broadband reliability issues and weren't getting much help from their previous provider. After a visit from a member of our team, we switched Kapow over to our business broadband service. They needed a router capable of serving Wi-Fi to 3 floors for both themselves and customers. We got them setup with a dual-band router with separate Wi-Fi networks for them and their customers.
Simon, owner at Kapow Coffee has the following to say about their Thornton's Arcade shop:
"The larger Kapow is in the centre of town, surrounded by bustling shopping streets and hidden away down one of Leeds' many arcades (very close to an excellent comics shop, it must be said). Spread over several floors – be mindful of the steep steps – Kapow is nonetheless somehow intimate. This is as much as reflection of the chatty, welcoming staff as it is the dark tones and quiet ambience of the place. The coffee is first class and made with real care and there are snacks available to eat as well. If you want somewhere relaxed and calm just a stone's throw from where it's busy, with a superb cup of joe to boot, you don't need to look any further than Kapow."
If you want delicious coffee made by experts, head to Kapow Coffee in Thornton's Arcade. Or Kapow Coffee on The Calls.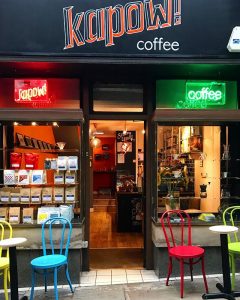 Next Page »